If you'll pardon a blatant and trite Beatles reference, I don't know whether anyone was waiting for this moment to arise, but as far as I'm concerned, a restaurant named Blackbird has certainly taken flight at the right time in the right place. Nestled along the West Randolph thoroughfare, a moderate walk or a five dollar cab ride from Wacker Drive and the Millennium Mile, Blackbird and its sister restaurant, Avec, establish a distinctly modern presence in the Loop.
When I say modern, I really mean modern. Blackbird reminds me of a restaurant/bar in Amsterdam (whose name I mis-remember) that looks like it was an unused set piece from Stanley Kubrick's 2001: A Space Odyssey. While Blackbird has exchanged the mid-century modern egg chairs for sleeker Italian white lacquer and steel, it does feel ethereally space age. Free of any architectural adornment inside and outside, Blackbird is just a box painted bright white with a glass front. A simple bar sits to the right hand side of the restaurant as you enter, while the tables, arranged tightly in a single row along a large continuous banquette also fill up the back of the small restaurant in ordered rows. Each table is adorned with one or two small daisies, a nice echo of the massive arrangement of daisies and moss that sit on the end of the bar nearest the entrance, oddly cold and bright, considering they are the only living things in the room aside from yourself.
The lighting is indirect but bright, and there is no artwork to speak of, save a twelve foot ink brush painting (which, to me, looks like a large semi-deconstructed slug, antennae and all) framed against the back right wall. With the bar on the right, and a high silver partition separating the dining room from the kitchen, anyone walking by would immediately assume this sterile environment was a sushi bar. Indeed this spotless, hyper-modern environment seems grossly mismatched to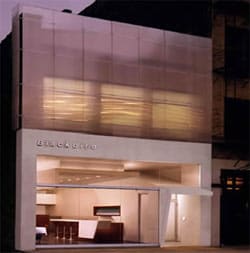 the cuisine on offer.
To be fair, the restaurant carries off this stark modernity well. Its servers and staff are crisply clad in Joseph Abboud (as we are told on the menu), and the deep house music softly underscores the hip-ness which seems to invisibly seep from one beautiful person to another, staff and patron alike. While a bit aesthetically scary should you arrive for an early dinner and be one of the few full tables there, once dinnertime arrives the restaurant and bar are both always filled with patrons and the space loses a bit of its austerity. With the humming crowd and diners packed elbow to elbow at the (just slightly) crowded tables, there is little to distract from the main event: the delightful dishes emerging from Chef Paul Kahan's kitchen. Kahan, named best chef in the Midwest by the James Beard Association in 2004, uses the vast whiteness of the restaurant as a canvas for bold and sometimes surprising culinary creations that in my experience never fall prey to their own cleverness. The food is a testament to both innovation and restraint, and is damn tasty besides.
The dining experience is a well-conceived fusion of top-tier dining elements mixed with a more casual experience. This is distinctly not the 'casual elegance' that is becoming so popular these days, with its white tablecloths and fine stemware in an industrial setting with friendly wait staff. Instead this an experience that provides service touches from restaurants thrice the price (well-polished, endlessly refreshed silverware, bread delivered with tongs, etc.) yet all within an atmosphere that would not normally have them. This is sort of hard to explain, but perhaps it's enough to say that this is not the type of place you would expect to get an amuse bouche, yet as soon as you have made your appetizer and entrée choices from the simple, carefully printed menu, you are presented with a small taste from the kitchen.
Tonight was my favorite of the several times I have eaten at Blackbird " a pureed rutabaga soup with house smoked salmon belly and apple wedges, topped with a few small micro-greens. This was a stunning dish. The creamy rutabaga soup played perfect foil for the tasty dance of flavors that swung wildly between the dark smokiness of the salmon and the crispy fresh sweetness of the small bits of apples.
After waffling disastrously around options such as seared Hudson Valley foie gras with pomegranate gelee and spiced potato bread and crispy confit of Wetstein Farm suckling pig with kumquat mostarda, grilled chicories and aged balsamic, I started my meal tonight with a curried rabbit ragout with grilled rabbit loin, roasted cippolini onions, wild mushrooms, and chervil which arrived matching nearly exactly my mental image of what the dish might be, and meeting my expectations for the exciting flavors. While the green curry broth in the bottom of the shallow bowl could have been a bit thicker to better coat my spoon, the juicy, slow-cooked curried rabbit, onion, and mushroom mix played well against the firm salty pieces of rabbit loin. Once finished, I found myself mopping up the bottom of my dish for the second time already and I hadn't even gotten my entrée.
As I had already had a dish similar to the roasted Colorado lamb chops and crepenette with braised chickpeas, haricots verts, goat's milk yogurt, and mint, which was what I immediately gravitated towards, I opted for grilled California sturgeon and braised pork shoulder with white corn panisse, saffron, fennel, and orange. The other two choices that appealed were the glazed Prarie Grove farm pork belly with brussels sprouts, rutabaga, gunciale, four-spice, and sun-dried cherries and the crispy "pekin" duck breast and confit with golden turnips, tea poached prunes, and creamed turnip greens.
Honestly it's pretty rare that I find a menu where I want to order nearly everything, and maybe it was just my mood and my appetite this evening, but I swear there's not a thing on the menu that didn't look fantastic. Based on my experience, the menu seems to change almost completely every few weeks with very little overlap. A few house favorites like the west coast mussel soup with white fish and the sautéed organic veal sweetbreads with blood orange, Jerusalem artichoke, braised celery, and black truffles.
My sturgeon arrived perfectly cooked, with a feathery fennel frond waving over the nicely stacked arrangement of fish on a bed of stewy pork goodness that had a similar texture to my confit of suckling pig but a very different flavor. To be honest, the saffron and strong savory flavors of the pork somewhat overwhelmed the more delicate sturgeon, especially when eaten in a single bite, but each was lovely independently. The pork was a soupy mix of a polenta-like corn cake, stewed tomatoes and shallots tossed amidst bits of not-too-salty meat. The fish was perfectly moist and fresh and might have satisfied me on its own if I hadn't any idea that it was possible to also get pork shoulder, too!
In trying to capture the essence of Chef Kahan's cooking, I find my myself trying to place it in the interstices between known quantities. It certainly lacks the refinement and polish, both of ingredients and presentation that you would expect to find at say, Charlie Trotters or another high-end dining destination, but in direct comparison to Trotters, which I've also dined at recently, I have to say I think the food at Blackbird is more satisfying. If Blackbird is not a full expression of refined dining, it is neither your typical mid-range restaurant that serves the expected Cal-American fare or pretty but soulless fusion cuisine. Blackbird walks a fine line, or perhaps squeezes into the narrow space, between concept and haute cuisine yet seems comfortable and confident in the process. Some dishes occasionally fail to live up to their full potential, but even when they stumble they don't fail to please.
The wine list on offer is moderately sized and worldly with little touches of the eclectic taste that dominate the marvelous list next door at Avec. Here you will find more of the mainstream, expected types of wines but from smaller and higher quality producers than most restaurants of similar size. Wines are available by the glass (several whites, several reds, and a few sparkling) and range in price from $7 to $16. The bottle list, organized sometimes by varietal and sometimes by region makes me "ooh" and "ah" both with favorites like the 2001 Domaine Les Pallieres at $36 for a half-bottle and dream wines like the 2000 Bond "Vecina" Napa Red Blend at $322. It's truly an exceptional list, and one that rewards careful perusal for special bottles and good values at most price points (even for Chicago).
But let's not let that minor detour into the restaurant's wine cellar keep us from finishing the meal, which I capped off with an apple filled beignet and crème fraiche ice cream, cherry gastrique, and fried sage. Having just had the orange blossom beignets the other night at Piperade in San Francisco, I was surprised to see my dessert looking more like a pop-tart than a small puffy pastry, but it was delicious, especially when eaten with a forkful of ice cream, a tart/sweet stewed cherry and a bit of the delicate sage leaf propped alongside. If my bread basket were still on the table, I might have mopped up my dish for the fourth and final time.
With dessert cleared and gone, and a brief pause for a sip of water or a coffee if I was so inclined (I wasn't) I was served a small plate of mignardises: a tiny white chocolate lemon tart, a ginger cream filled truffle, pear jelly, and a shortbread and apple jam cookie. Yet another pleasant and unexpected surprise for those who might be dining here for the first time and a wonderful way to contemplate the check, that by that time seemed like a steal. Even though tonight wasn't my first dining experience at Blackbird I did get a surprise to end my evening. The gentleman at the entrance who handed me my coat and who nodded at my need for a cab raced out of the restaurant and into the cold street, and when no cabs were in evidence for several minutes, even walked down to the next intersection to hail one. After about 5 minutes of fruitless hailing in his shirtsleeves, he finally got one for me, and pushed away the bills I tried to give him as thanks for his effort. "Forget it," he said, "I'm the owner. Have a great evening, and please come back."
Just try and stop me.
How much?: $75 for appetizer, entrée, dessert and a glass of wine. Corkage is a little steep at $25.
Blackbird
619 W. Randolph (@ Desplaines)
Chicago, IL 60606
312.715.0708
Open for lunch Monday thru Friday 11:30 AM – 2:00 PM. Dinner every night from 5:30 PM to 10:30 PM and until 11:30 on Friday, Saturday, and Sunday.
Reservations strongly recommended, especially Thursday thru Saturday. Street parking is easy to find, and if it isn't, they offer valet service for $10.