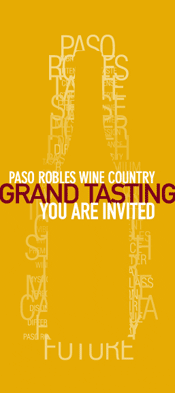 Anyone who hasn't yet discovered Paso Robles wines is missing some of the most interesting and dynamic wines that California has to offer. And anyone who hasn't discovered Paso Robles, would do well to mosey on down there for their 25th Annual Wine Festival in a couple of weeks. Once a sleepy undiscovered little wine town, Paso has become the epicenter of a wine explosion in the last decade with wineries popping up like spring crocuses every year. The limestone terroir of western Paso Robles in particular is producing some absolutely stunning Syrahs and other Rhone Varietals that every wine lover in California should know about.
The Wine Festival takes place over a (usually sunny) weekend in May. Starting off with events and dinners held at wineries around the area on Friday, the event culminates in a Grand Tasting in the town park on Saturday, which is certainly the highlight of the weekend and should be the goal for anyone looking to learn more about the area's wine.
At only a three hour drive from San Francisco, it makes for a very nice weekend trip should you feel inclined.
Paso Robles Wine Festival Grand Tasting
Saturday May 19th, 1:00 PM to 5:00 PM
Paso Robles Downtown City Park
Paso Robles, CA 93447
Tickets are $50 and should be purchased in advance online.
Bring sunscreen and drink lots of water. And don't forget to spit.