On the narrow "boot" of Italy, at least the part that protrudes into the Mediterranean, there exists one and only one fully landlocked province. There, in the middle of the boot, sits Umbria, with no coastline to speak of. Named after the ancient Umbri tribes that pre-dated the Roman empire, it doesn't get a lot of tourist traffic despite possessing the same goegeous agrarian landscapes and picturesque medieval towns that draw so many to Tuscany and other, more popular destinations.
Sometimes referred to as the green heart of Italy, Umbria is known for olive oil, truffles, beans, lentils, and wild game. It has far more forested and uncultivated lands than many neighboring provinces, and it has historically not received much attention from a wine perspective compared to many places in Italy.
Just like everywhere else in this country of wine, Umbria has its own unique set of wines worth exploring, often with interesting stories behind them. Many Italian wines have histories that stretch back hundreds of years. Some are shrouded in mystery. And still others are relatively new narratives that continue to unfold today.
The story of the wine we know today as Montefalco Sagrantino (or Sagrantino di Montefalco depending on your pleasure) is some mix of all these. It has a foggy past, a relatively short modern history, and a future of opportunity.
Overnight Sensation
Every wine producer you speak with in Umbria will tell you that Sagrantino is an ancient grape that has been growing in the region since time immemorial. We do know that grapes have been grown in Umbria for millennia. Whether those grapes were Sagrantino, however, is much less clear.
The first clear references to a wine called Sagrantino (a name thought to be derived from sacre or "sacred") date to the late 16th Century. The most reliable written records clearly identifying the grape variety of Sagrantino from Umbria, however, are not found until the late 1800s.
What's more, it is clear that up until the point that the Sagrantino grape nearly went extinct (following the Second World War) Montefalco Sagrantino was always sweet, made in the passito style by drying grapes on wooden racks for weeks following harvest.
In fact, when the DOCG designation for Montefalco Sagrantino was made in 1977 it was only for sweet wines (the dry version got a DOC designation a couple of years later, and was elevated to DOCG in 1992).
"When the director asked us for samples for the DOCG submission, we had a hard time finding five producers with five vintages each," recalls Marco Caprai, son of pioneering producer Arnaldo Caprai, the undisputed godfather of Montefalco Sagrantino. When the DOCG was awarded, there were only 163 acres of Sagrantino vineyards in the region.
As recently as 2010 there were less than a dozen producers of Montefalco Sagrantino farming less than 200 acres of vineyards, but the last 15 years have seen a remarkable flowering of producers. Montefalco now includes more than 70 commercial wineries farming almost 1000 acres of Sagrantino. None of them are particularly large in the grand scheme of things, the median production level being around 13,000 cases of wine annually.
While a few stalwart producers continue to make the sweet style of Sagrantino, today 95% of Montefalco Sagrantino consists of dry red wine.
Farmers to Winegrowers
The nearly 60 new producers of Montefalco Sagrantino that have sprung up in the last 15 years have emerged from the region's existing agricultural society—farmers who decided to take a corner of their existing fields and put in some vines. This phenomenon helps make sense of the somewhat pointillist map of plantings in the Montefalco appellation.
As you can see, there is no massive concentration of vineyards in any one particular location. This scattering of vineyards stands in marked contrast to many more famous wine regions such as Brunello di Montalcino or Barolo, where vineyards take up much of the landscape.
During my visit to the region, driving through lush farmlands, orchards, and green belts to get from one winery to another, more than one producer pointed out that by putting a vineyard here and a vineyard there, rather than in huge swaths, the region has maintained a great deal of biodiversity, which many credit with their fairly low pest and disease pressure.
This patchwork of plantings also makes it a bit hard to make terroir-driven generalizations about the region, though compared to many wine regions, the Montefalco DOC has perhaps less variation in geology than most.
Sitting in a fertile bowl surrounded by mountains of various heights that lend the area a more decidedly continental climate, the Montefalco appellation has roughly four types of soil. Each is a variation on calcareous clay, some with a little more sand, some more alluvial thanks to erosion from nearby hills, some with a bit more calcified marine sediments, others with more rocky marls.
I have not tasted thoroughly enough in the region to be able to say with any confidence that these differences translate into consistently perceivable sensory characteristics.
A Structural Wine
Few people forget their first taste of a Montefalco Sagrantino, and unfortunately, that's not necessarily a good thing. The experience is often somewhat brutal. Described by author Ian d'Agata as "Italy's most tannic red wine, by far," Sagrantinos can feature punishingly hard tannins that take many years to soften in the bottle. Indeed, tasting newly-released Sagrantino or (heavens forbid) barrel-tasting the most recent vintage of Sagrantino can prove to be a fairly masochistic pastime.
Endowed with thick, dark skins packed with anthocyanins, Sagrantino is a beast of a wine, no two ways about it. These polyphenols, combined with reasonably good acid retention, even when ripe, makes for a wine with the potential for significant age-worthiness.
Put another way, however, as many of us have experienced, the tannins not only allow the wine to age well, they absolutely demand it.
In its youth, Sagrantino is deeply colored and richly flavored with cherry fruit flavors and often floral or dried floral overtones. Picked at what most producers consider ripeness, it makes for an intense, often higher alcohol red, with powerful musculature.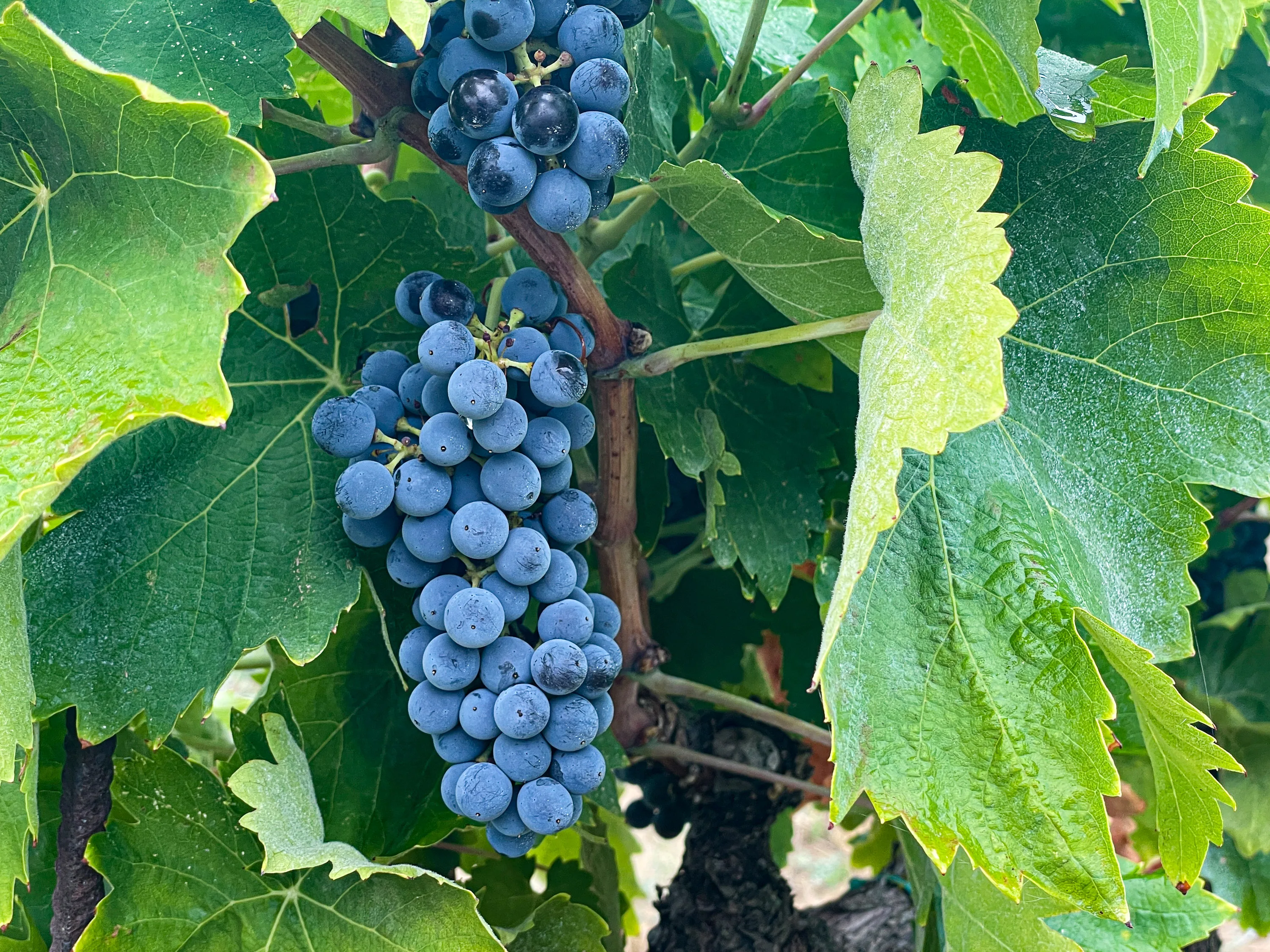 The tannins, just as with other intense grapes such as Tannat or Petite Sirah, need to be carefully managed, but the way that most producers in Montefalco do this is somewhat counter-intuitive: extended maceration.
While leaving fermenting grape juice or the resulting wine in contact with the grape skins pulls out even more of the tannins from the skins and seeds, it also allows them to chain up and get longer. Known as polymerization, this process makes the sensory impact of those tannins less harsh and grating, more smooth and supple.
The tannins of a well-macerated Sagrantino might still hit you like a boulder rolling down a hill, but the boulder will be covered in velvet and it won't be moving quite so fast when it bowls you over.
Time in the bottle works wonders, and really I don't recommend drinking Montefalco Sagrantino for at least 5 to 10 years to truly appreciate its charms. For more accessible drinking, there's Montefalco Rosso, which usually contains more Sangiovese than Sagrantino, and makes for a much more accessible glass of Umbrian wine for those with less patience and perhaps lower budgets.
A Wine Still Becoming
On the one hand, the commercial acceptance and prominence achieved by Montefalco Sagrantino in the last 20 years can be described as nothing less than astonishing. Going from a handful of producers making wine that was rarely consumed outside of the province to a substantial association of 70 producers with Tre-Bicchieri-Winning wines and some measure of international recognition represents an almost unthinkable amount of progress in such a short time.
On the other hand, we are still clearly at the beginning of Montefalco Sagrantino's story. Farming techniques are evolving, as are winemaking techniques. And they must continue to do so, both for the exigencies of climate chaos as well as for a continued march towards higher quality.
The top bottlings of Montefalco Sagrantino can be impressive, and with age, deeply rewarding to drink, but as a whole, there is room for not just improvement, but refinement of the wine. Not everyone can have a shoulder of roasted wild boar over lentils to justify a glass of the dark, brooding wine of falcons.
Here are some of my favorite Montefalco Sagrantinos and Rossos from the visit I made as a guest of the Consorzio Tutela Vini Montefalco this past year.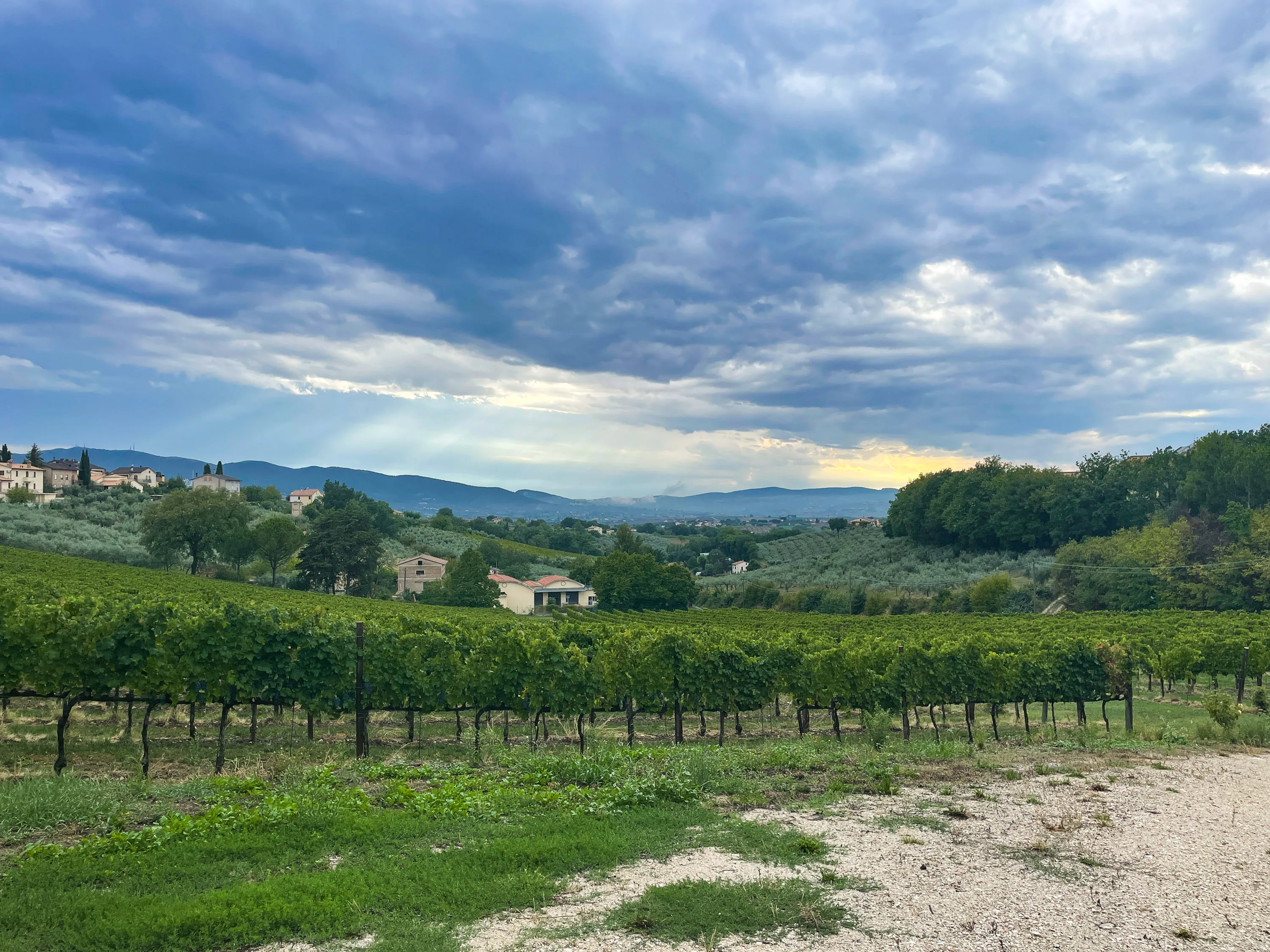 Tasting Notes
UPDATE: Enough people have asked that I now feel compelled to note that I will be covering the (excellent) wines of Paolo Bea in a separate post to be made in the future.
2019 Tabarrini "White Label Campo alla Cerqua" Montefalco Sagrantino, Umbria, Italy
Medium garnet in the glass, this wine smells of pure cherry and plum. In the mouth, somewhat crystalline flavors of cherry and plum mix with dusty road tannins that coat the mouth, as flavors of sweet cedar and forest floor emerge on the palate. There's a hint of herbal bitterness in the finish, but the wine leaves the overall impression of clarity and brightness. The tannins are muscular but not brawny. Fantastic. This is a special bottling made with a white label instead of a black label, a change-up that makes its impish maker cackle in delight. It spends more than a month on the skins following fermentation, and then 36 months in large-format oak barrels before bottling. Score: around 9.5. Cost: $?? – It's not clear to me if it is even really for sale.
2017 Tabarrini "Campo Alla Cerqua" Montefalco Sagrantino, Umbria, Italy
Medium to dark garnet in the glass, this wine smells of black cherry, lavender, violets, and fresh aromatic herbs. In the mouth, aromatically sweet black cherry fruit mixes with floral and herbal notes as it is wrapped in a fleecy blanket of tannins. The tannins show great restraint, however, and let the fruit shine, which it does thanks to excellent acidity. Notes of buckwheat and dried herbs linger in the finish. Even though they're restrained, that doesn't mean you shouldn't leave this for a few years to mellow. So well balanced, you'd never guess this wine was 16% alcohol. It spends more than a month on the skins following fermentation, and then 36 months in large-format oak barrels before bottling. Roughly only 2000 bottles made. Score: around 9.5. Cost: $75. click to buy
2012 Arnaldo Caprai "Spinning Beauty – Signature Collection" Montefalco Sagrantino, Umbria, Italy
Dark ruby in the glass, this wine smells of earth, chocolate, toffee, and licorice. In the mouth, the wine has a wonderful aromatic sweetness to it, with brown sugar, chocolate, black cherry, and licorice. Dusty tannins billow through the mouth and caress the edges of the tongue. Herbs and dried flowers linger in the finish, with a hint of licorice root bitterness. This is a new line of ultra-reserve wines made by the Caprai family, who clearly seek to make a statement with it, namely that Montefalco Sagrantino belongs amongst the world's most expensive and revered wines. It consists of a selection of the best grapes from around the winery. Aged for 8.5 years in barrel, and 1.5 in the bottle, price aside, it shows what Montefalco Sagrantino can become with time and with care. 15% alcohol. Score: around 9.5. Cost: $350. click to buy
2009 Cantine Adanti "il Domenico" Montefalco Sagrantino, Umbria, Italy
Dark ruby in the glass, this wine smells of dried herbs and flowers. In the mouth, dark cherry and dried flowers are wrapped in velvety tannins as an almost minty note lingers in the finish with citrus peel acidity. Faint notes of oiled leather creep into the wine. The tannins slowly build, like the quiet dust settling in a room after a breeze. Elegant, deep, and powerful, this wine is aging beautifully. This vineyard sits at 420 meters with northwest exposure and wind. This is sandy soil with big cobbles. Betrays none of its prodigious 15.5% alcohol. Ages for 30 months in oak, and then 2 years in bottle. Score: between 9 and 9.5. Cost: $90. click to buy
2017 Tabarrini "Boccatone" Montefalco Rosso, Umbria, Italy
Medium garnet in the glass, this wine smells of blackberries and plums, and flowers. In the mouth, slightly spicy flavors of blackberry and plum mix with black pepper and dried flowers. Excellent acidity and faint-but-muscular tannins. Supple and stony, with nary a trace of the wine's 15.5% alcohol. Mostly Sangiovese with "a small quota" of Sagrantino and Barbera. Spends nearly a month on the skins before 24 months of aging in large-format oak. Score: between 9 and 9.5. Cost: $30. click to buy
2017 Tabarrini "Colle Alle Macchie" Montefalco Sagrantino, Umbria, Italy
Medium to dark garnet in color, this wine smells of dried flowers, aromatic herbs, and blackberry. In the mouth, especially bright and juicy flavors of blackberry and cassis mix with black pepper and a hint of clove. Tight, muscular tannins wrap around the mouth and gently squeeze the palate. Notes of sage and dried herbs linger in the finish. Beautifully balanced with no trace of its 16% alcohol. It spends more than a month on the skins following fermentation, and then 36 months in large-format oak barrels before bottling. 3000 bottles made. Score: between 9 and 9.5. Cost: $65. click to buy
2018 Arnaldo Caprai "Valdimaggio" Montefalco Sagrantino, Umbria, Italy
Dark garnet in the glass, this wine smells of dried herbs and black cherries. In the mouth, extremely juicy flavors of black cherry and black pepper mix with blackberries and dried herbs. Powdery, muscular tannins increase their grip as the wine finishes, but never squeeze the palate too hard, leaving a billowy sensation in the mouth, There's just a tiny hint of licorice root and wormwood bitterness in the finish. A nice balance of elegance and power. Polished to be sure, but with well-integrated oak and excellent acidity. This wine is named after the historical estate (Tenuta Valdimaggio) purchased by Caprai, and the grapes all come from the vineyards surrounding the winery. Aged in 100% new barrique. 15.5% alcohol. Score: between 9 and 9.5. Cost: $70. click to buy
2014 Cantine Adanti "Arquata" Montefalco Sagrantino, Umbria, Italy
Medium to dark garnet in the glass, this wine smells of dried flowers and cherries. In the mouth, muscular tannins surround cherry and dried flowers, with a hint of licorice and lots of forest floor and damp earth. Excellent acidity, as the tannins build monumentally in the mouth. This was a very rainy vintage, with lower maturity than normal. Mostly clay/limestone soil with a touch of sand. 20+-year-old vines. 14% alcohol. Score: around 9. Cost: $40. click to buy
2018 Fratelli Pardi "Sacrantino" Montefalco Sagrantino, Umbria, Italy
Very dark garnet in the glass, this wine is quite floral with violets and other flowers mixing with blackberry and blackcurrant. In the mouth, sweet black plum and blackberry fruits are wrapped tightly in a thick fleecy blanket of tannins that coats the mouth and squeezes the palate as floral and fruity notes linger in the finish with hints of earth. Excellent acidity. But pretty massive tannins. Grapes grown on rare, very sandy soil, from a single vineyard. 15% alcohol. Score: around 9. Cost: $50. click to buy
2019 Fratelli Pardi "Riserva" Montefalco Rosso, Umbria, Italy
Medium to dark garnet in color, this wine smells of cherries and violets. In the mouth, cherry and cedar flavors mix with floral qualities, with lightly muscular tannins. Excellent acidity. Hints of citrus peel in the finish. A blend of 70% Sangiovese (Tuscan clone), 20% Sagrantino, and 10% Montepulciano. 14.5% alcohol. Score: around 9. Cost: $29. click to buy
2017 Tabarrini "Colle Grimaldesco" Montefalco Sagrantino, Umbria, Italy
Medium to dark garnet in the glass, this wine smells of blackberry and black plum with a shot of black pepper. In the mouth, black pepper, green herbs, and licorice root flavors mix with blackberry and black plum. Muscular tannins put the squeeze on the palate. There's a faint bitterness in the finish with some alcoholic heat accompanying the 16% alcohol. It spends more than a month on the skins following fermentation, and then 36 months in large-format oak barrels before bottling. 6000 bottles made. Score: around 9. Cost: $55. click to buy
2018 Arnaldo Caprai "Collepiano" Montefalco Sagrantino, Umbria, Italy
Medium to dark garnet in color, this wine smells of dried herbs, dusty roads, and a touch of espresso. In the mouth, mocha, black cherry, blackberry and black plum are shot through with dried flowers and herbs. Powdery, chalk-dust tannins coat the mouth and gently squeeze the palate. There's just a hint of herbal and licorice root bitterness in the finish. A blend of the different vineyards Caprai owns in the area. Collepiano is the ancient name of the area around Montefalco. The wine is cold macerated for 15 days, then goes through 10 days of fermentation, then 30-40 days longer with the skins in steel before moving to 1/3 new French oak. 1/3 first use and 1/3 second use oak. 15.5% alcohol. 65,000 bottles made. Score: around 9. Cost: $48. click to buy
2018 Arnaldo Caprai "25 Anni" Montefalco Sagrantino, Umbria, Italy
Dark garnet in the glass, this wine, smells of dried herbs and flowers, backed by earth, licorice, and dark fruit. In the mouth, flavors of toasted oak and black cherries, blackberry, and dried herbs are nestled into a billowy bed of powdery, cotton-ball tannins that stiffen slightly through the finish. The oak stays fairly present in the wine, which I would prefer not to taste, but the wine is clearly well-made and elegant. Give it some time to swallow the wood. This wine celebrates the 25th anniversary of the release of the clonal selection pioneered by Caprai that changed the course of Montefalco. This wine is made in the best vintages only. 15.5% alcohol. Score: around 9. Cost: $85. click to buy
2015 Adanti "Riserva" Montefalco Rosso, Umbria, Italy
Dark garnet in color, this wine smells of dark cherry and licorice. In the mouth, black cherry and licorice flavors mix with dark earth and cedar. Thick, fleecy tannins wrap around the core of the wine and flex their brawniness as the wine finishes. Good acidity. 70% Sangiovese and 30% Sagrantino. Comes from older vineyards. Aged for 24 months in large oak barrels. Then 6 months in a tonneau. 15% alcohol. 10,000 bottles made. Score: between 8.5 and 9. Cost: $40. click to buy
2020 Fratelli Pardi Montefalco Rosso, Umbria, Italy
Light to medium garnet in the glass, this wine smells of violets and plums. In the mouth, bright and juicy plum and blackberry flavors have a hint of black pepper spiciness to them and a beautiful sweet floral quality. Great acidity and powdery tannins that have a musculature to them but not a lot of aggressiveness. Quite pretty. A blend of 70% Sangiovese, 15% Sagrantino, 7.5% Merlot, and 7.5% Cabernet Sauvignon. 14.5% alcohol. Score: between 8.5 and 9. Cost: $18. click to buy
2019 Tenuta Bellafonte "Pomontino" Montefalco Rosso, Umbria, Italy
Medium to dark garnet in the glass, this wine smells of cherry and boysenberry aromas with hints of flowers. In the mouth, cherry and blackberry flavors have a light suede-like tannic texture and notes of earth and dry herbs. Very good acidity leaves a hint of orange peel in the finish. Nicely crafted but feels just slightly muted, and not as dynamic as it could be. The flavors, however, are quite pleasant. This is the third vintage. 80% Sangiovese and 20% Sagrantino. 13% alcohol. 16,000 bottles made. Score: between 8.5 and 9. Cost: $25. click to buy
2014 Tenuta Bellafonte "Collenottolo" Montefalco Sagrantino, Umbria, Italy
Medium to dark garnet in color, this wine smells of blackberry, black plum, and flowers. In the mouth, flavors of raisins and blackberries, dried flowers, and licorice root have an earthy, wet-wood quality. Fleecy tannins wrap around the core of fruit, coating every surface of the palate and slightly drying the mouth. There's more wood flavor here than I would have expected. 14% alcohol. 6400 bottles made. The current release is the 2015. Score: between 8.5 and 9. Cost: $70. click to buy
2020 Arnaldo Caprai "Vigna Flaminia-Maremmana" Montefalco Rosso, Umbria, Italy
Dark garnet in the glass, this wine smells of black cherry, black pepper, and dried flowers plus just the barest hint of green vegetal notes. In the mouth, cedar and spice mix with black cherry and plum, with notes of espresso and mulling spices lingering in a long finish. Excellent acidity. Well-restrained tannins, with fine grains. This is a single vineyard wine planted with 70% Sangiovese, 15% Cannaiolo, and 15% Sagrantino. 80,000 bottles made. 14.5% alcohol. Score: between 8.5 and 9. Cost: $28. click to buy